When spring comes I have a tendency to experiment with my makeup. The sun here makes a dramatic difference on what looks too harsh, so I start looking for ways to make my skin look flushed or golden, or my lips bright. I get so excited about makeup, here's what's currently inspiring me on Pinterest.
From Me To You – Fresh Beauty. This look is so gorgeous, she is obviously beautiful but her skin looks flushed and glowy. The focus is on using mostly Clinique products to enhance her skin. I love the natural eye made up with MAC paint in Bare Canvas and the subdued juicy coral lips in MAKE UP FOR EVER Rouge Artist Intense color 39. Perfect for a day that surprises you with heat.
Cupcakes and Cashmere – Pastel Kiss. This girl is so effortless. Her beauty routine is like five minutes and she always looks great. Probably because she keeps it simple by choosing either lips or eyes to showcase. What I love here is her pastel coral lips. Which she says is a mix of Revlon's Orange Flip and a bit of concealer to lighten it up. I really want to try this.
Keiko Lynn – Classic Beauty: Red lips are always classy, even in spring. The key to this look is to put barely anything on your eyes, flush your cheeks and perfect your lip shape. She used the Estée Lauder Mad Men Collection creme rouge on her cheeks to get a dewy look. And on the lips she used MAC Prep + Prime Lip, MAC Redd Lip Liner and then used a lip brush to fill in with MAC Russian Red.
Into The Gloss – Hanaa in Lancôme. Such amazing pinkish bronze colors. I know that a lot of this has to do with Hanaa's amazing skin tone but I want to see if I can recreate this look. Lancôme has this pretty limited edition Color Design palette for Spring 2012 with pink and peach and burgundy and it looks so sexy with the Le Crayon Khôl liner and Hypnôse Mascara.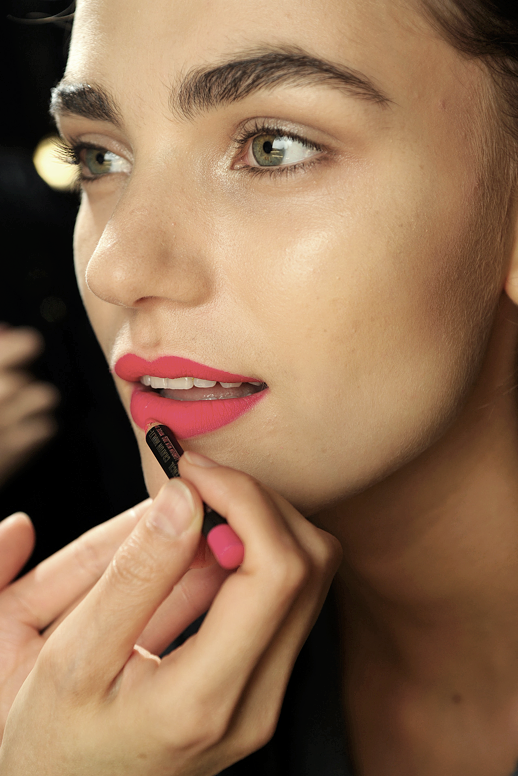 Le Fashion – Spring Beauty. So bright! Do you dare to try this trend? I've put it on my list because I think it looks hot. The blog recommends using NARS Pure Matte Lipstick in Carthage. The lips are matte and bright but the rest of your face should be downplayed with simple mascara and little else, otherwise you'll look like a drag queen.