It's time for another 31 things for Halloween! Last years 31 Things post was so much fun I decided to do it again. This October didn't turn out to be as exciting as I hoped for and we didn't even carve pumpkins, but we are going to a Halloween party on Saturday so I'm happy to do something Halloween related. I don't have my entire costume yet but I'm still excited because Halloween lets me be a weirdo!
31 Things for Halloween
1 – 6 are from my Pinterest Picks – Spooky Style post. I still want those polka dot tights!
ASOS LUPO Slippers – I'm definitely behind the smoking slipper trend but the embroidered bat is where it's at.
Zadig & Voltaire Uma Leather Zip Top Skull Detail Clutch Bag – Last year there were skulls everywhere – this year they're still hanging around.
ASOS Structured Velvet Skater Dress – Even though velvet can be worn anytime, there's something super sexy and mysterious about it.
Gipsy Big Spot Tights – Aren't these great? They're kinda witchy, kinda retro. I love them.
ASOS Faux Fur Lapel Collar – This reminded me of The Great Gatsby and the pink makes it gaudier.
Rock 'N' Rose Exclusive For ASOS Black Beatrice Floral Round The Bun Hair Band – The gothic version of a floral crown with deadly black roses.
7 – 12 are some yummy apple recipes from my Pinterest Picks – Apple Recipes so check those out.
Homemade Apple Cider Donuts | Say Yes to Hoboken
Silly, Great Costumes – because I am not that creative and easily impressed.
13. Winston on New Girl was hoping his girlfriend would dress sexy to spice up their sex life and she decided on this:
14. I love the minions so why not? DIY Despicable Me Minion Costume + Makeup
15. The best couples costume I've seen: Black Swan.
16. Tyler Oakley is a doll. Whoever did his makeup did a fantastic job. Halloween 2013: Perrie Edwards Costume
17. My future dog should be scared of the Halloween torture it will endure just so I can pretend to have a velociraptor as a pet.
18. And if you can't think of anything to dress as…just put a pumpkin on your face…
TV episodes – I watch a lot of tv. I love tv. And I love cheesy/fun/campy screamer tv. Starting with Buffy, my favorite show growing up, and all the way through Supernatural I'm just drawn to creepy tv! Here are 6 of Dan and my favorite freaky tv episodes. Look for them on Netflix and Hulu:
19. "Buffy The Vampire Slayer" Hush – One of my favorite episodes and some of the creepiest monsters. "The Gentleman" like to rip out the hearts of their silent victims and glide creepily past windows at night with devilish smiles on their faces. Most of the episode is silent but even that doesn't stop it from having a ton of the regular Buffy humor.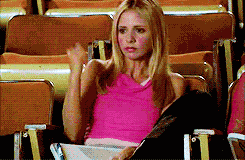 20. Aqua Teen Hunger Force Hoppy Bunny – Dan used to make us watch this show right before bed and it 100% invaded my dreams and gave me nightmares… this episode in particular ruined my sleep because CLOWNS ARE TERRIFYING!
21. Simpsons Tree House of Horrors IV – classic Simpsons episode that is funny and still creepy. Dan is obsessed with the forbidden donut and Hell's "Department of Ironic Punishments"
22. The X-Files Squeeze – This is episode 2 of season 1 of the X-Files and it sets the tone for all the other one-off episodes. The bad guy in this one is like demonic Stretch Armstrong – do not watch before bed!
23. Supernatural Croatoan – Supernatural is kinda like the boy's equivalent of Buffy – campy and fun but also emotional and even sometimes scary. This episode is equal parts virus-apocalypse and bromance. There is a lot of "The Crazies" type scenes in this one, which is pretty much as creepy of a concept as you're going to find.
24. Any of the American Horror Story episodes but specifically the pilot because after that I was too much of a wuss to see the rest.
Classic Scary Movies – When I was putting together this post last night Dan had to convince to keep a few of these in the post because they were freaking me out too much. Just look at that Exorcist gif! It is amazing I didn't have nightmares. But if you're looking for movies to creep yourself out this Halloween why not check out one of these iconic flicks:
25. Psycho (1960)
26. Rosemary's Baby (1968)
27. The Exorcist (1973)
28. The Texas Chainsaw Massacre (1974)
29. Carrie (1976)
30. The Omen (1976)
31. Halloween (1978)