Let's discuss this. Some men are prissy. They hoard clothes and fill closets with numerous copies of their favorite item. My brother Jonah has more t-shirts than his wife's entire wardrobe, his friend Adam needs extra storage for his hats, and Dan has more jeans than I have skirts, dresses, pants and jeans combined. But there are guys who don't put care into their appearance and unfortunately it's obvious. Picking out clothes should be intuitive for guys because it's so much easier for them to look decent.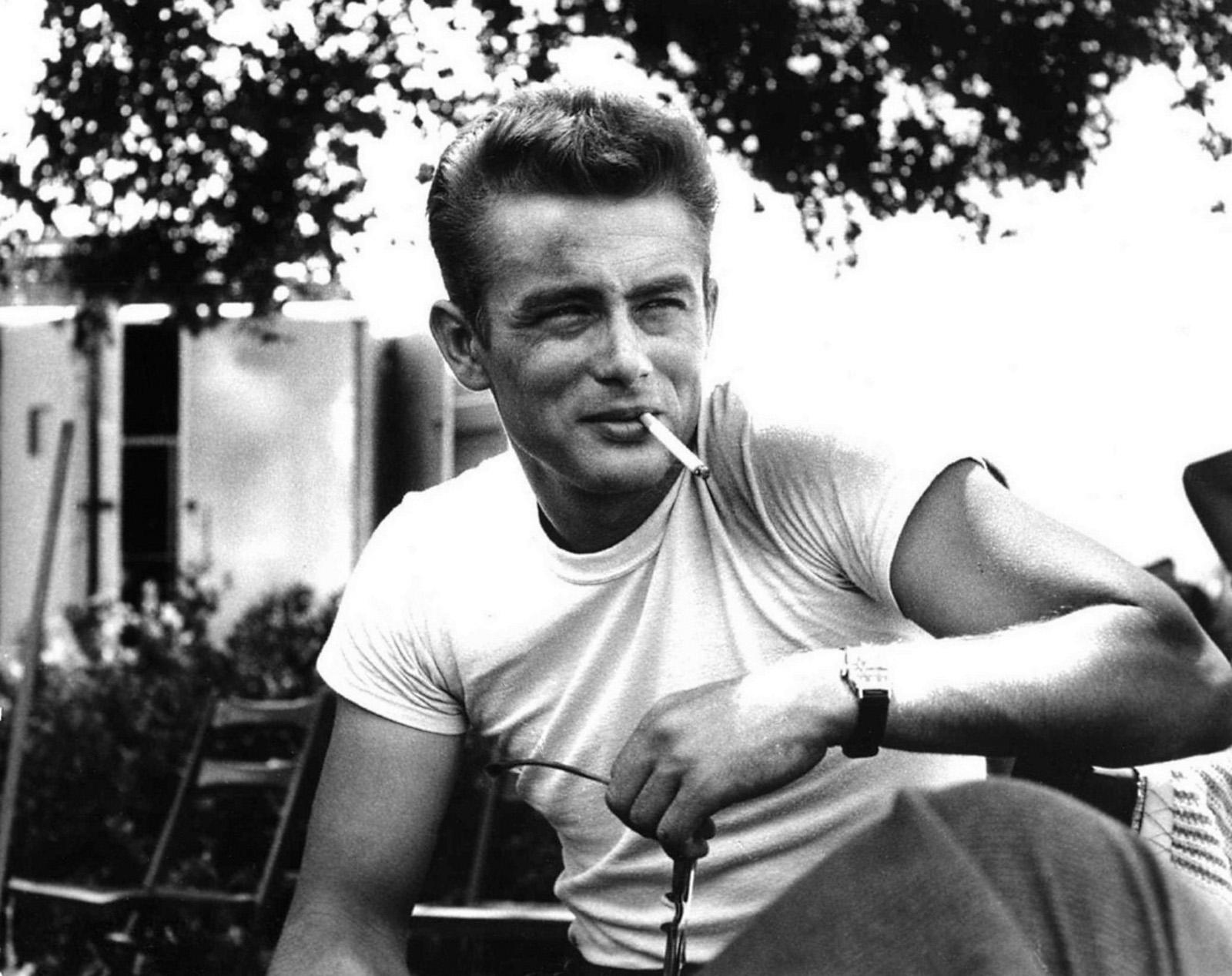 James Dean always looked good in a fitted white t-shirt and jeans
Too often you see dudes of all ages in shirts and pants that are too big. So long as their giant polo shirt is name brand and decently wrinkle-free, and their jeans are not so baggy that they're around the ankles, these guys feel like they're well dressed. That deserves somewhat of a facepalm. If you're trying to cover up that post-college beer gut, that's fine, but with all that extra fabric you don't look like a man, you look like a child. Comfort is obviously very important when picking out an outfit, but too often it seems to be the only thing a lot of guys care about. Fortunately it's an easy fix to find clothes that are versatile and well-fitted, but not so trendy or tight that they'll get branded "metro."
Let's start with the basics. T-shirts shouldn't be so loose or big that the sleeves come below the elbow or the bottom drops too far below the waist. Fortunately shirts that are comfortable and form-fitting but not overly tight are ideal, and very affordable. Hanes, Banana Republic and Gap all carry nice t-shirts. Dan loves pima cotton, especially because it's particularly comfortable and doesn't wrinkle.
Banana Republic stretch-pima cotton basic tee: I love these shirts so much I wish I could wear them. This shirt is very flattering and made of good quality cotton. It comes in white, gray and black but I suggest getting at least one of each. They also have 100% cotton tees without stretch that are nice as well.
Hanes Men's Premium Crew-Neck T-Shirt: Hanes white t-shirts are so easy. They even come in packs. My shirts don't come in packs. These are a staple and you can wear them all the time. They also come in v-neck but careful with v-necks because they can make you look really lame or gross.
Jeans are worth the investment. Dan's a brat and a little extreme with the jean collecting. But he's definitely reinforced to me the value of quality denim that actually fits! The first step is knowing what cut of jeans works best for your body type. Most guys hate constricting in their crotchal/thigh areas. Partially due to buying boxers that are way too big for you. Luckily guys, you don't have to wear jeggings to look comfortable in your jeans, but you definitely can't look like Lil Wayne either. And don't be afraid to get stuff tailored, for maximum proper fit. If you have short legs then get the pants altered. If you're afraid of shrinking your jeans, don't put them in the dryer, hang them out. Sounds like too much work? Then enjoy your high-waters. Dan prefers the fit of 7s and Rock 'N Republic but you aren't limited to expensive jeans. Levi's make affordable, stylish jeans, just don't get them super baggy.
Hudson Jeans 'Beau' Bootcut Jeans: I'm not saying that you should go blow your money on jeans, I'm just giving you an example of what looks good. I had a very hard time justifying that expensive jeans were worth it. However, this is a fit that looks good. These have classic details and are bootcut so they aren't super constricting.
7 For All Mankind 'Standard' Slim Straight Leg Jeans: Another expensive pair but I really like the look of them. I also like them in this East Greenwich rinse which is a relaxed blue that's good for casual outfits. They say they are "slim" but they don't look very tight to me. They certainly aren't skinny jeans!
Mavi Jeans 'Matt' Relaxed Bootcut Jeans: These are "relaxed bootcut" so there is more room for your ill-fitting boxers. Again, classic and clean looking, no extra details and they aren't crazy expensive.
Levi's Red Tab 514 Slim Straight Leg Jeans: If you have multiple pairs of jeans (you should) then you should buy a pair that's in a darker rinse. Plus, these are the cheapest of the four and they have a lot of room in the legs and backside.