Last weekend I went shopping and forced myself to try on colors. I fell in love with so many things on the rack but found they were either too expensive or didn't look right on me. Don't you hate that? Tried this on in pink…loved it…couldn't justify buying it. I also tried on five or six pairs of bright pink jeans, some fit, some didn't but I just couldn't find the right pair in my price range.
It's ok because I'm happy that I did end up finding a few fun pieces to add some color to my wardrobe. When I realized I'd bought orange and purple shirts I was reminded of a writing assignment I once had that was called "Notice what you're noticing." I didn't think I could wear orange, yet here it is and I love it! A little style evolution? Next time you shop, pay attention to what you're drawn to and try to push yourself out of your comfort zone. You might surprise yourself.
Banana Republic Silk crepe de chine blouse: This shirt is my favorite purchase. I liked it so much that I made an exception and possibly bought it without a discount. They are calling this color 'coral hibiscus' so it's not orange-orange, it's pink-orange which is probably why I can wear it. If there's a color you think you can't wear, think again, there might be a variation of that color that would actually suit you. I found that pinkish/reddish oranges look best with my skin tone. See what the color does when it's held against your face, does it wash you out or bring life to it?
Banana Republic Puff-sleeve pullover: Purple is my favorite color and yet I had nothing in my closet that was purple. Until now! I hate saying this but this picture is not as flattering as it could be. Banana Republic tends to do that and that's unfortunate because I definitely wouldn't buy this online based on this picture. However, it's really cute on. It's soft and the shade is perfect for springtime. The description says puff-sleeves but as a person with broad shoulders I shy away from puff anything, except cocoa puffs, but these aren't too pronounced – they are a nice detail.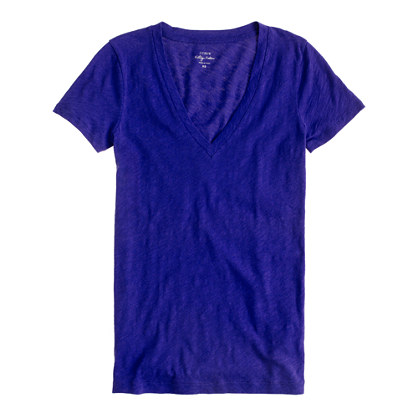 J.Crew Vintage Cotton V-Neck Tee: More purple! After trying on the pink lace shirt that was too expensive as were these pink jeans, I was a little down. I didn't want to leave J.Crew empty handed but this gem was at the bottom of my try-on pile that I had picked up in the sale section. You can't go wrong with t-shirts, especially in color.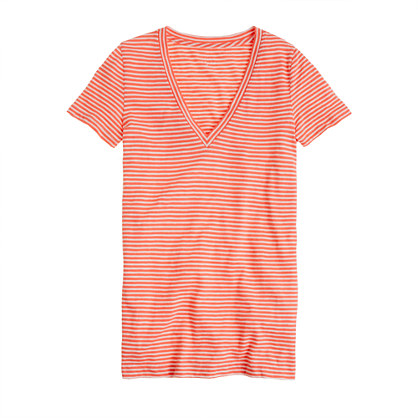 J.Crew Vintage Cotton V-Neck Tee in Stripe: After trying on the purple t-shirt, I told Dan to go pick between the other colors on sale. He came back with this shirt, which is probably the brightest thing I've ever owned. The horizontal stripes are just really fun – perfect for summer.