Can We Discuss Jessica Biel? She's back on the radar, which I assume is mostly due to her fairly recent engagement to Justin Timberlake. I thought they were still broken up, shows what I know. She's also promoting her new (remake) movie Total Recall.
I think Jessica Biel is boring. Or at least one-dimensional. She just never leaves any lasting impression, other than her slightly entertaining turn as a super neurotic, lonely publicist in the movie Valentine's Day. Am I being harsh? Maybe, but feel free to try and change my mind. Tell me that Jessica Biel is funny or weird or incredibly sweet because right now when someone mentions her I say "ugh" or "eh" or "meh". We all know she has a sick body and maybe I am a bit girl jealous? (yeah yeah lame, whatever) But every time a guy tells me how hot Jessica Biel is I cringe because I just don't get it. However, I cannot deny that she looked great at the ESPYS – even though I'm a hater I will give credit where credit is due. (My celebrity style board on Pinterest)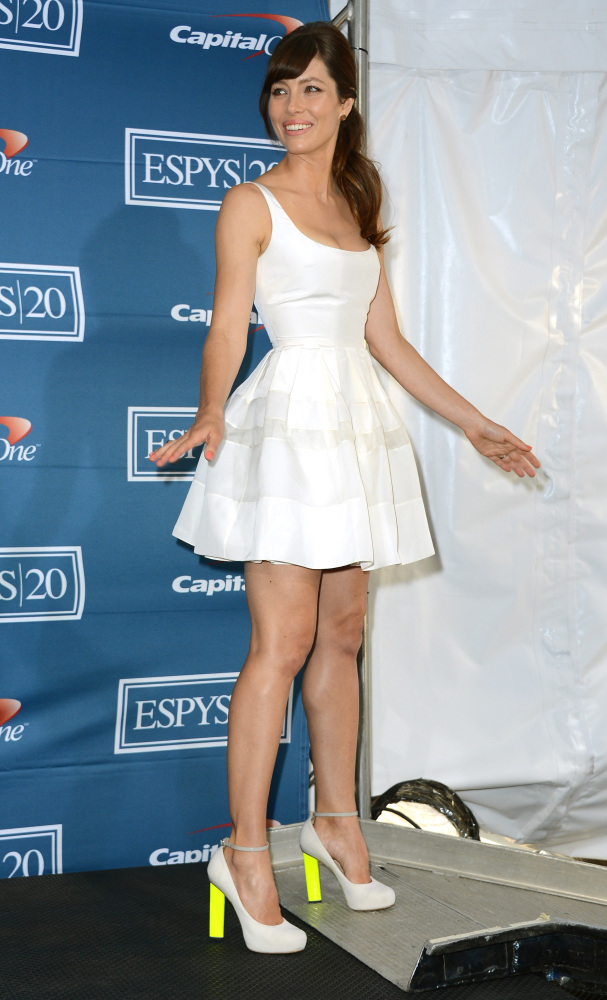 Jessica Biel at the EPSYS wore a Christian Dior Resort 2013 Dress and Nicholas Kirkwood for Roksanda Ilincic ankle strap heels. I cannot deny that she looks a little doll-ish (which is what our friends Tom and Lorenzo think) but maybe I am easily impressed when I see a woman wearing a dress that looks like it fits her body perfectly. I am a sucker for good tailoring, though Tom and Lorenzo are right – it does look a little too girlish for her. But still, it fits great. I'd die for that bodice shape.
At Comic-Con 2012 Jessica wore a Thierry Mugler Resort 2013 PVC Pencil Skirt, Joe's Jeans sheer T-shirt and hot pink Brian Atwood pumps. Tom and Lorenzo, didn't have more to say than she looked "too dressed up," but I was hoping the fashion gods would come rain down on this outfit with more vigor than that. I guess that means that they don't expect much from her either. More neon here. The asymmetric peplum was a smart move and one that will be copied down the fashion line. I don't know what to make of it, she obviously can pull it off body-wise but something seems off, maybe it's the thick locks.
Jessica Biel at the MTV Movie Awards 2012 wearing Chanel Spring 2012 White Knitted Balloon Sleeve Mini Dress and Barbara Bui Biker Sandals (also available in bright red). Tom and Lorenzo said her the shoes make her feet look big, but as a girl with big feet I think the shoes are the best part. The also dress looks a tad tight despite the huge sleeves. The bangs are heavy, the sleeves are heavy and then you have hot legs in sleek shoes – the proportions just don't work for me. But I still love the shoes.
So flashback to the 2010 MTV Movie Awards and you'll get to see my appreciation for Jessica Biel. Here she is wearing a Giambattista Valli Fall 2010 dress and Pierre Hardy shoes. Maybe 2012 is just not working for her. I am a much bigger fan of her with a middle part and volume than her banged self. I don't hate this outfit either – in fact I think she looks great. She obviously loves white because she wears it all the time but this is ladylike and retro sexy. Plus, the shoes are gorgeous. When Jessica chooses to wear fitted clothes she usually gets it right.