What item in your closet screams holiday season? You know, that piece that is a balance between holiday zest and over the top kitsch. Whenever I am invited to a party during the holiday season I panic and hope that I have something a little fancier than what I'd normally wear. Something with a little glitter or shine. I've seen a lot of these types of items on Pinterest, ones that I think are so beautiful but wonder when would I wear them. Then I remember – right now! It's the holidays. With everything else being decorated and people getting in the mood to celebrate, you should be wearing that daring piece, that sparkly number, the jewel tones and velvets and satin.
ASOS Premium Evening Pant – When I first saw these pants on Pinterest, I fell in love with color. They're so shiny it is almost like wearing pants made out of ornaments!
ASOS Velvet Top With Peplum – Peplums, peplums. I'm still not over them. Some people might shy away from evergreen during the holidays, but it's very rich and definitely needs to be front and center. Especially in a sexy cut like this.
Zara Scoop Neck Linen T-Shirt With Jewel Details – I love that this is leopard. It also comes in burgundy or gray, which I also adore, but the leopard with the jewel detail is a little unexpected.
Zara Washed Out Silk Velvet Blazer – The details on this velvet blazer are just delicious. It's beautiful and unique. You can wear it casually or dress it up and wear it over a dress (but under a coat because velvet is delicate and baby, it's cold outside!)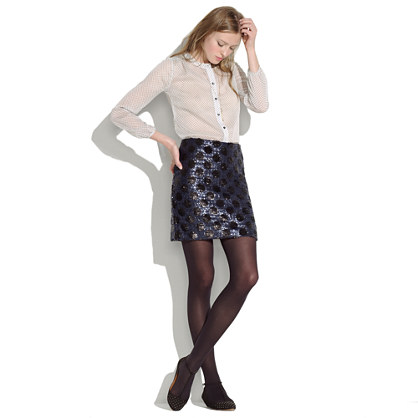 Madewell Dotted Sequin Skirt – Sequins and polka-dots. Isn't this the perfect combo? I'm loving every dressed up polka-dot piece out there and this sequin number is no exception. A little cute but not too cute.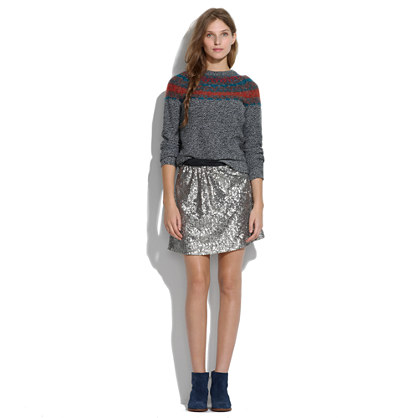 Madewell Sequin Mini – This skirt is perfect for day or night, and pairs well with either hot cocoa or champagne. The relaxed shape gives you options on what you can wear it with, whether it's a cozy sweater or a slinky tank.