In Washington it tends to rain…often (though not as often as you'd think you unknowing pretties). But in Washington no one seems to use umbrellas. If you use an umbrella you're probably a tourist or just moved here. What do I wear since I've never felt comfortable using an umbrella? A wool coat with a hood. I love hooded coats and they don't mess up my hair, unlike the drizzly grossness falling from the sky. So why, my friends, is it so hard to find nice, quality, wool coats with hoods?
This one time Dan and I went to Nordstrom to try on coats and he suggested I try on a Burberry coat. We both drool over Burberry. I avoided the Burberry section on purpose but he convinced me to try on a coat just to see how it fit. This was a mistake I tell you! Why? Because the coat is made of MAGIC! It has ruined me for life! I'm not above coveting a beautiful, expensive piece of clothing, especially when it feels amazing when you wear it, and this coat really does feel amazing.
The problem with becoming obsessed with a coat you can't afford is that there might be a time when you actually need a new coat. The one Dan bought me last year has fallen to pieces and lacks a hood, so I am left with a coat I've had for years. Which would be fine but it's too big for me and I'd like to graduate to a nice, new coat. So Dan and I went on a search to find my stubborn self a new coat and found some decent hooded options.
Burberry Wool Duffle Coat in Camel Check: This was the coat that I tried on at Nordstrom that changed my life. I have a mad crush on it. I write it love letters. I dream about it. I never thought camel would be a good choice for me but Burberry does camel right, it's not too yellow or brown. I'm like freakin' Goldilocks right now with this coat. It's just right!
Burberry Wool Duffle Coat in Mid Grey Mélange: And here it is in grey. I love them both. Grey would be a color I'd choose naturally but I am undecided as to which I love more. So now that I've expressed my feelings for this coat now I will explain why it's so great. It's heavy without weighing you down, it's the right length, the wool is soft not rough, the lining is comfortable and great quality, it has a zipper and toggles for double wind defense, the hood looks incredibly cute and not dorky, and it features double pockets and I really love pockets.
J.Crew Toggle coat in wool-cashmere with Thinsulate®: This is the coat Dan bought me for Christmas after a very long back-forth exchange where I couldn't make up my mind so he made it for me. It's a beautiful coat. I love the toggles and the detail around the wrists. My only worry is that it's going to be way too long on me. I'm 5'5″. It might swallow me up! I'll let you know how it fits. (update: it did swallow me up. Way too long but still such a nice coat)
Gloverall Heritage Duffle Coat with Split Hood: Other than the color, which you know I am a huge fan of, I love the shape of this coat. I like that it's a little shorter and it features the really cool zipper hood which gets rid of the bulky feel. However, for the price, the wool looks a little rough and this coat doesn't have a zipper for extra guard against wind.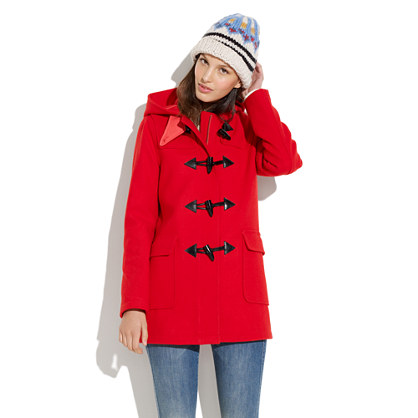 Madewell Toggle Coat: If you find black, gray, and navy completely boring, then go for an in-your-face red coat. Make a statement and stay warm. This coat has nice, clean lines and the red with black toggles is classic and cute. Unfortunately, there are only limited sizes available but this Madewell Luckley Duffle Coat is incredibly similar.
Tinley Road Ava Collared Coat: For something totally different, I chose this very pretty, vintage style coat. The light heather gray is romantic and would look wonderful in winter when the snow is falling. Because of my height I need coats that tie at the waist in petite sizes, but I couldn't pass this up because of the tie waist detail.
Below is a collection of all the coats I liked if you are looking for more options.