I'm definitely not feeling too great today. Chop it up to a very fun weekend with more rich tasting food than my tummy can handle and too many anxious nights with bad sleep. I'm just not "with it" right now. But if there's something that can put me in a better mood it's pretty things. And just about any pretty thing can qualify – surroundings, clothing or shoes or makeup, even food or cinematography. I'd love to beautify and decorate my living space but currently that's not possible. Luckily, I can find inspiration online or in tv-shows – Downton Abbey for example is a great source of "pretty" inspiration.
What do I find inspiring at the moment? Anything floral. Maybe it's because Valentine's Day is soon or spring is on its way but I just want to see floral everything. It's a mood booster print. Bright and colorful and feminine. It livens me up and I might just have to buy a bunch of flowers just to get rid of this mental/physical rut I'm in. Otherwise, all the tan, cream and yellow in this apartment might drive me mad (The Yellow Wallpaper anyone?)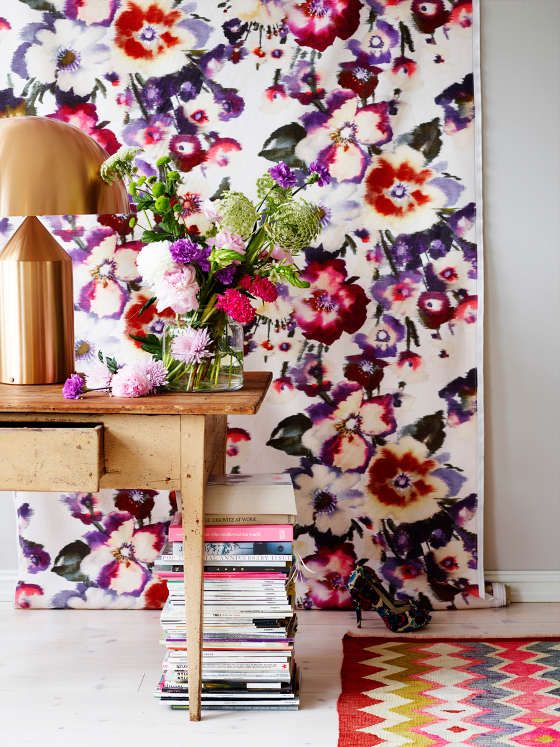 Dan, not being a fan of floral would kill me if I tried to put up floral wallpaper. But isn't this bold print so refreshing? Not like vintage floral patterns, this is graphic watercolor art and I love it.
Frickin' Dolce & Gabbana with their gorgeous floral prints. They get me every single time with their designs. You know who rocks floral prints like they're  the queens of ladies who lunch? Lemon Breeland and Annabeth Nass. All I need is sunshine, floral prints and a fellow floral lover so I can be a lady who lunches too.
This lady doesn't lunch, she brunches. With champagne. And doesn't need to take a nap afterward. In fact, she's at a flea market finding the perfect bar cart and cupcake tray. Her floral print even has polka dots. I can't take it!
My Nana loved roses. She had rose everything and this chair reminds me of her. I love that it's imperfect, there's a huge rip across the seat. It would be perfect in a cottage style home or french country, where the floor squeaks and you spend a lot of time drinking hot tea and reading.
This girl doesn't lunch either. She's going to get a burger and beer with some friends and then hang out at the beach. Maybe go on a last minute road trip to the desert. This shirt is awesome. Do you see the old car on it? Sick.
Check out these beautiful floral print pieces. And yes, you're going to be mad at me when you fall in love with the Dolce & Gabbana florals. Can't stop. Won't stop.