Have you decided on a swimsuit yet? Is it that time already? Yes, it's that time already. The sun is starting to come out and most days it even gets a little warm, and we're all probably imagining ourselves on a private beach on a lounge chair, or hammock, with a margarita or pina colada in our hand. Whatever floats your boat right? But on that boat you're gonna need a swimsuit!
To be clear, I am a last minute swimsuit shopper. So even though I am looking at swimsuits now, I probably won't get one until all the cute ones are gone! It's gonna be a Tuesday in July and I'll be leaving on Friday to go on vacation and I still won't have bought a swimsuit. It happens every year. And if you're even more like me, your body changes every year and your bathing suit doesn't fit so you need a new one. Not just for a new style, although I wish I was the girl who could buy a bathing suit every year just because her old one was BORING. One day maybe. But until then, I just need to buy a swimsuit earlier so I'm not stuck with the swimsuits on the clearance rack surrounded by the new trends for Fall, namely coats.
But here's why you need to get a move on now: So many cute suits are already sold out! They were fully stocked a couple of weeks ago but with Spring Break and holiday vacations everyone already snatched up some of the cutest ones. Thankfully, not all of them are gone, but the I'm sure with Style Guides and Lookbooks showing up in the mail, and concerts where a swimsuit is part of the uniform (Coachella), the early birds are getting the worm. So remember, even if it is still cold where you live and your pasty white legs tell you that summer is far away, it's really not.
Here are some Style and Cheek faves. I tried to not like so many floral ones but I think this is the year of floral because It's dominating everything. Also hot? Anything by Mara Hoffman.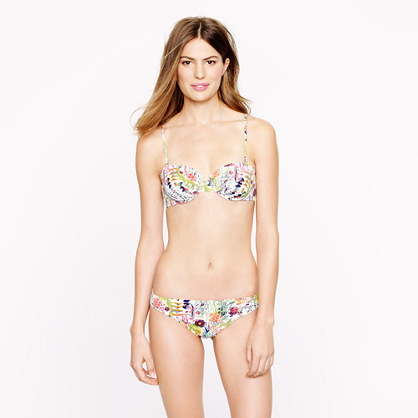 J.Crew Liberty underwire top in Tresco floral and Liberty bikini in Tresco floral or Liberty string hipster in Tresco floral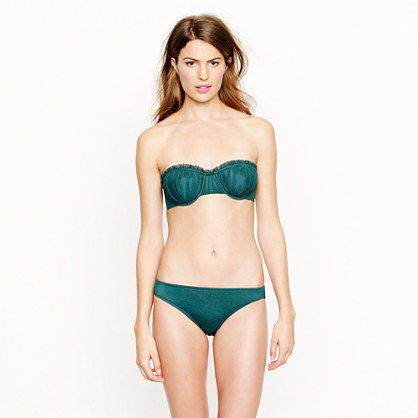 J.Crew Tulle underwire demi top and Tulle bikini
Mara Hoffman Electric Casino Print String Bikini Top and Mara Hoffman Electric Casino Print String Bikini Bottom
MinkPink Sadie 50s Moulded Bikini Top and MinkPink Sadie 50s High Waisted Bikini Bottom
Paul Smith Mixed Spot Deep V Swimsuit
Ted Baker Orchid Twist Front Swimsuit
Vix Sahara Triangle Bikini Top and Vix Sahara Side Tie Full Bikini Pant
Insight Magnolia Sliding Bikini Set
Piha Stripe Underwired Balconette Bikini Top and Piha Stripe Hipster Boy Leg Bikini Bottom