Yesterday, after a very long morning involving coffee that tasted like wheat and my boyfriend Dan fixing the shower drain so I wasn't shin-deep in soapy water, Dan and I went to New York City. Our plan was to take the slightly more scenic route into the city because it was my first time being there (the George Washington Bridge vs. a tunnel) before heading straight to the Met.
First let me say that New York drivers are crazy. New York pedestrians are crazy. If you don't go when you can go you're screwed so everyone just goes, otherwise you'll get trapped between some crazy double-parked moving truck and psychotic super aggressive cabbies. Thankfully, Dan somehow actually likes driving in "the city", and I didn't have to do anything but sit back and watch all these crazies try to avoid killing each other.
After we drove all around Central Park, we headed into the Met. If I were a jewelry designer and lived in New York City, I would 100% go to the Met for inspiration. There is amazing ancient Roman, Greek, and Egyptian jewelry on display; fine gold link necklaces with agate gemstones, ridiculously heavy and detailed armlets, and really intricate pins. There was even a beautiful gold hair-bun-net.
Gold openwork hairnet with medallion
Beyond the jewelry, there were so many beautiful works that it's hard to list them all, though a lot of my favorites were paintings with a mind-blowing level of detail. Here are a couple of my favorites:
Mäda Primavesi (1903–2000), 1912 Gustav Klimt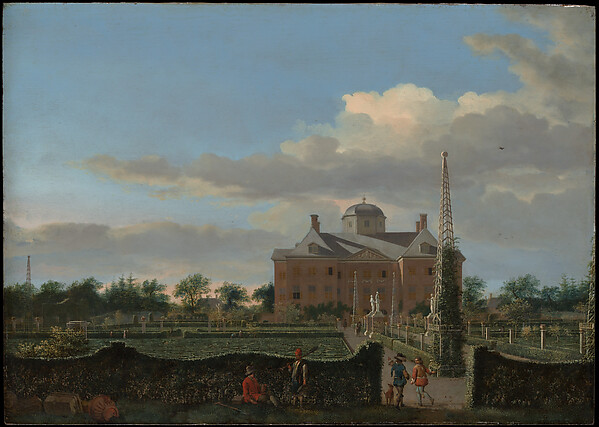 The Huis ten Bosch at The Hague and Its Formal Garden (View from the South) Jan van der Heyden
Oh and then there is this insanely creepy piece that I really shouldn't post but these people are marching down to hell through a giant mouth… this is some disturbing Stephen King stuff right here. We walked back to this painting a couple times to make sure we saw it right. Creepy, creepy, creepy.
Christ's Descent into Hell Style of Hieronymus Bosch  (Netherlandish, ca. 1550–60)
After we left the Met, Dan and I walked down 5th avenue along Central Park to grab dinner at Tao – an Asian restaurant with a gigantic Buddha in the middle of its main floor and fun, loud house music. Dan has been really wanting "east-coast-style" Chinese noodles for eternity and I guess he picked this spot so he could indulge with noodles that I might also like, ie they weren't greasy and wouldn't give me tummy death (they were yum). We also had a bunch of sushi and some really hard-to-maneuver-into-your-mouth duck spring rolls, topped off with our first dessert in more than a month, warm sugared donuts with a few dipping sauces. Oh and our server was really attentive and friendly, which is always a big plus for me. I liked her a lot!
Then it started pouring and we ran into a drug store to buy an umbrella. Eventually, we ended up back in our car and Dan drove around aggressively, swearing at people who were honking for no reason or trying to cross the street when they could get crushed. It's too bad it was raining so hard because we really only got a glimpse of most of the city through rainy windows. The one thing about New York that really surprised lil' naive me is that most of it does not look like Times Square. Times Square is so bright I thought my eyeballs were going to burn out.
And guess what? Only a little more than 4 hours later, we got hungry again, and headed downtown to Balthazar, a French style brasserie best known for sick breads and pastry that Dan would eat by the truck load. Dude loves his pastry. The best way to sum up Balthazar would be to say that if we lived in NYC it's the type of place that would make both of us gigantic. There is no place near us in Washington where at 11pm we could get a really fresh tasting beet salad, sardines, chanterelle mushroom and corn chowder, and the most perfect cheese plate (blue, goat, brie, and hard cheeses all present). Plus the place was awesome inside! I loved the old school tile floor and polished metal "mirrors" on the walls. And it had a seriously fun vibe. I'd go back to this place– it is the definition of ideal Julia late night snacking. Nom.