One of my favorite parts of the changing of the seasons, beyond trying new trends, is the hairstyles that designers choose to use in their shows. The hairstyles for Fall 2013 are kinda all over the place and while I found some a little too much – slicked back hair, wet looks – others I found incredibly romantic and sexy. The four runway hairstyles I chose for this post are styles that are not only gorgeous, but do-able. Check out these other hairstyles for Fall 2013 on Vogue UK Beauty.
Rodarte Braids Fall 2013 – This is by far my favorite of the hairstyles for Fall 2013. I love braids and Rodarte, but this look is so romantic, especially with the twisted hair that looks like a rose. I'd wear this all the time if I were skilled at braids but  it would also make a beautiful wedding hairstyle.
Ralph Lauren Sleek Ponytail Fall 2013 – This may seem super simple but sleek ponytails aren't always easy to accomplish. I usually end up with too much wave or those weird dinosaur bumps. Use clean, straightened hair, comb it back into a low ponytail, and for added classiness wrap a piece of hair around the base of the ponytail and secure with a bobby pin.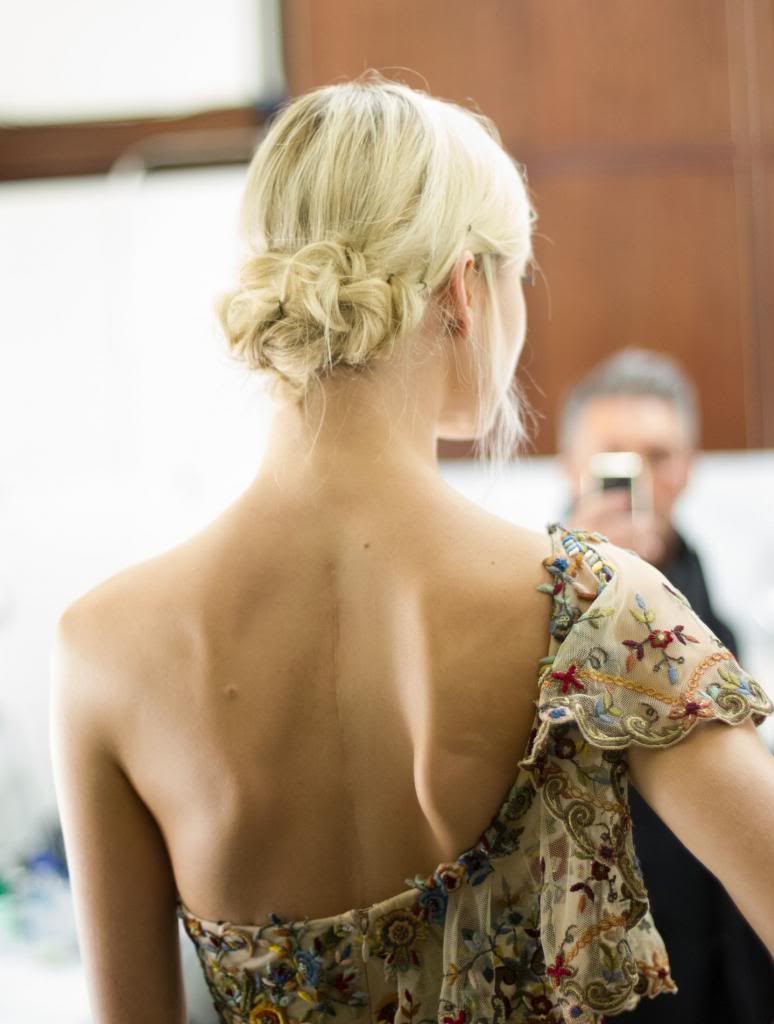 Marchesa Braided Chignon Fall 2013 – Another lovely hairstyle that is so dreamy. This hairstyle is very soft and a little undone – almost like a goddess who took a nap and woke up with perfectly imperfect hair. Chignon's have a tendency to be all business and absolutely in place, but the pulled out pieces and loose braid change the entire look.
Diane Von Furstenberg 70's Waves Fall 2013 – Volume, volume, volume. There were a few looks on the runways that featured a lot of volume. One that involved a lot of frizzy styled hair, a 40's look that involved a lot of curl, and DVF's sexy 70's waves. This hairstyle seemed the most approachable of the bunch and one that could be worn on a daily basis.