Happy September! I'm sorry for putting so much Fall related stuff on the blog but when the weather actually starts to get chilly I want to be prepared. Since I live in the Pacific Northwest my need for cold weather clothing is much greater than warm weather clothing. It rarely snows here, but from October (even sometimes September) through April its 40-55 degrees and drizzly. Every day. Basically our late Autumn weather lasts for 8 months. I've got most of my cold weather clothing covered, although I always need more, but what I really need is a jacket for when the weather starts to get colder and layering is needed. Not a heavy winter coat, like a wool coat, but a jacket.
There are so many cute jackets for Fall that I want to buy a few, but know that I'll end up with just one for now. Many of you probably own multiple jackets but I've more or less streamlined my closet and gotten rid of jackets I've had since college, so it's time for a nice jacket or two. I really love outerwear because it changes your whole look and if you live in a cooler climate than you know it's what people will be seeing you in all the time so pick what's comfortable for you.
Oasis Drape Coat – The simplest choice and of course my favorite. It's a little feminine and a little badass and cinches the waist.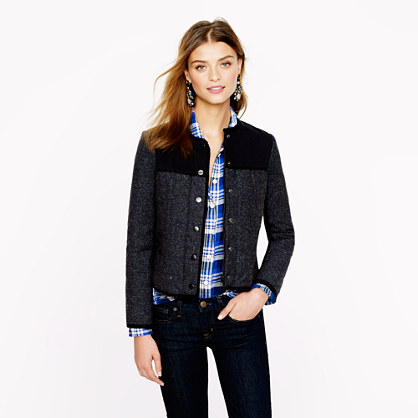 J.Crew Quilted Jacket – Quilted jackets just look sooooo comfortable and warm. This jacket is cut perfectly to wear with jeans.
Velvet by Graham & Spencer Lily Aldridge Army Jacket – Coats that keep out the chill when your outside but won't make you sweat like a monster when you're inside are awesome – and this army style jacket is cute to boot.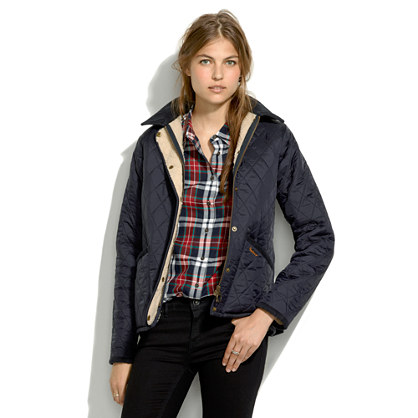 barbour® vintage liddesdale jacket – This model is wearing plaid underneath for a reason – this coat looks warm enough to go hunting. Luckily its cute enough to wear to other places too.
Topshop 'Duke' Jacket – I love military cut/themed jackets, they're super cute and badass. This one is even functional as a rain coat, complete with hood (yay hoods!)
Sam Edelman Zip Front Military Tweed Jacket – Another military-ish jacket that looks sort of equestrian. The folds and lapels and extra panels just make this a statement piece.