Having a blog has significantly increased the amount of time I spend 'window shopping', which on the internet just means scrolling through various fashion sites and drooling. Most of you know exactly what I'm talking about and have spent time browsing and dreaming. Because of this, I end up spending a lot of time obsessing over beautiful things I can't afford, kinda like the opening scene of Breakfast at Tiffany's but instead of window shopping in a chic black gown, tiara, and gloves, I'm usually wearing pajamas. That doesn't mean a girl can't dream! And I'm dreaming of beautiful fall day dresses that will take you right into winter. These are dresses that can be worn with tights, boots, jackets, and scarves, yet still look as gorgeous as they would if worn alone. Some of them definitely qualify as pretty day-to-night dresses and can be dressed up for a night on the town. Winter is coming but that doesn't mean it's time to give up wearing sexy, ladylike dresses and skirts.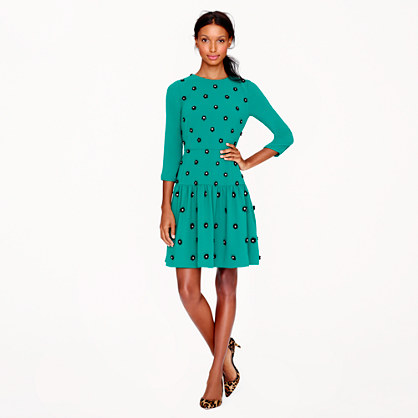 J.Crew Collection Leather-floret Dress – The color, the leather florets, the fact that it's actually a cute dress with long sleeves (not always easy to find)…this one is a winner.
DELPOZO Twill Mini Dress – Talk about the little black dress of my dreams! Sure, overall it's simple, but the design and details are anything but simple. There's even a little bow in the back at the top of the zipper. Beautiful.
4.Collective Split Neck Dress – Black and white has always been a mixture of professional and sexy to me and this dress is no exception. It is perfect for a day in the office but you could also wear it out and about, or out on a date. Just a powerful looking dress that oozes authority and sexy.
Alexander McQueen Wool-crepe Dress – This is a delicious shade of red. Seriously perfect. We know McQueen can get it but this catches my eye every time I look at dresses, I just haven't had a place to use it yet, but it is definitely calling for a leather jacket. I hear it.
Fendi Jacquard-paneled Stretch-jersey Dress – Jersey dresses are good for all seasons – they fit really well and are always comfortable.
Rag & bone Gabi Stretch-knit Dress – Here it's shown with sandals but the fit, color, and fabric would all work just as well with leggings and boots for fall.