When your furniture is mostly neutral and your apartment walls are that specific shade of nothing, you rely on accessories as your main source of color, specifically throw pillows, rugs (not really an accessory), artwork, etc. Anyone can buy a Chesterfield sofa or a Louis Ghost chair, but what you pair with those pieces is what shows your personality. If you live with your S.O. buying things like throw pillows will likely be a very interesting shopping experience and you will see where your tastes differ. Just take them to a museum and see if you like similar pieces of art, that should tell you if your decorating life will be a breeze or a struggle. Thankfully, Dan and I like a lot of the same styles so I'm looking forward to decorating.
via: Sneak Peek Fiona Douglas of bluebellgray | Design Sponge
Even though we see eye to eye style wise, this whole moving thing has really got me thinking about the layout of our new space and how we're going to decorate. The easiest thing to wrap my mind around is throw pillows. If you remember this Fancy Friday – Dream Apartment Decorating post, we really didn't get into throw pillows or accessories at all. I came across the photo above while at work and sent it to Dan. He responded with "pretty, you buy us." Even though we have similar taste I didn't think he'd be ok with floral prints or anything purple. After trying to find similar pieces here's what I wondered; How are throw pillows so expensive?? My jaw dropped when I saw numbers in the hundreds. There are a ton of pillows in the $20 range, all very similar styles, and then there are a crazy amount in the hundreds. Thankfully, there are many below $100 (even on this post) but this is Fancy Friday, and Dan and I sadly like the expensive pillows better. Now for some pillow inspiration!
bluebellgray Red Rose Ecru Cushion – The same designer who made the beautiful floral pillow in that photo!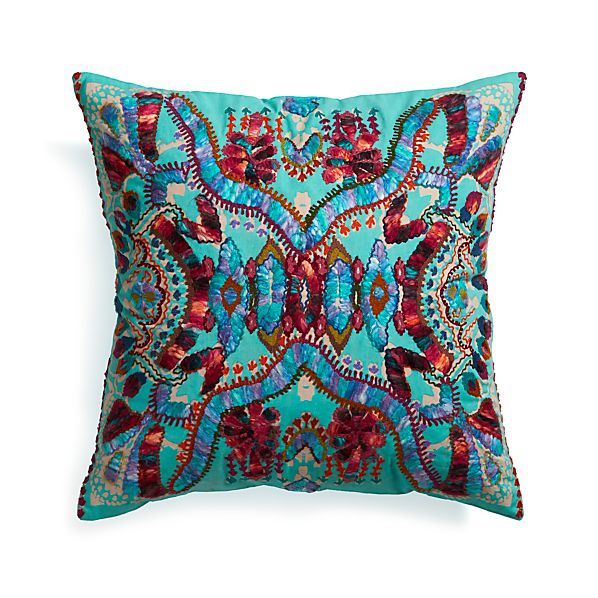 Crate & Barrel Coletta 23″ Pillow
Z Gallerie Parisian Pillow 24″
Lulu & Georgia Celuk Pillow, Bronze
Anthropologie Silk Pondicherry Pillow
Anthropologie Tasseled Abbasi Pillow