As if you didn't already know, Coachella was this weekend. I didn't go. Obviously. Not because I don't want to go, because I seriously do. It's just crazy expensive and the kind of trip that takes prior planning. No, I stayed home pretty much all weekend, our first chill weekend since we moved into the apartment. It was nice and I slept in. Plus the weather was amazing so we tried to spend as much time outside as we could. But while I was enjoying chill time my social media was bombarded by Coachella everything. From drool worthy pics of sunny Palm Springs to a video of Haim's entire set – kinda disappointing even though Danielle is a sick singer, to all the Instagram pics of people wearing all kinds of festival wear from desert boots to cropped tops to floppy hats. And then there is video of Leonardo DiCaprio dancing at Coachella. No one is 100% sure it's him but I'm entertained enough to believe it.
One trend that seems incredibly popular at Coachella is the romper. I'm not surprised, if I was bouncing around festival grounds I would want my ass covered, but in something still short and cute. Shorts and I don't really get along but the idea of rompers seem so comfortable. Once I saw this clip of Beyonce and Solange dancing on stage together at Coachella I thought, ok rompers it is for Pinterest Picks.
The weather has warmed up and there are many different styles of rompers that you're not limited to just one style. If you're wondering how to pick the right romper for your body type here's a tip, if you have a short torso (like me) then look for ones with shorter tops so the romper doesn't bag in the wrong places. If you have a long torso then look for rompers with a longer top so you don't get a ridiculous wedgie or flash too much booty. But really, the best thing to do if you're unsure is to go try on different styles. There is definitely a style out there that's right for you.
Yumi Kim Botanical Escape Silk Romper
Jen's Pirate Booty for Free People Rose Haven One Piece
ASOS Playsuit In Printed Scuba
ASOS Jumpsuit With Chic Racer Detail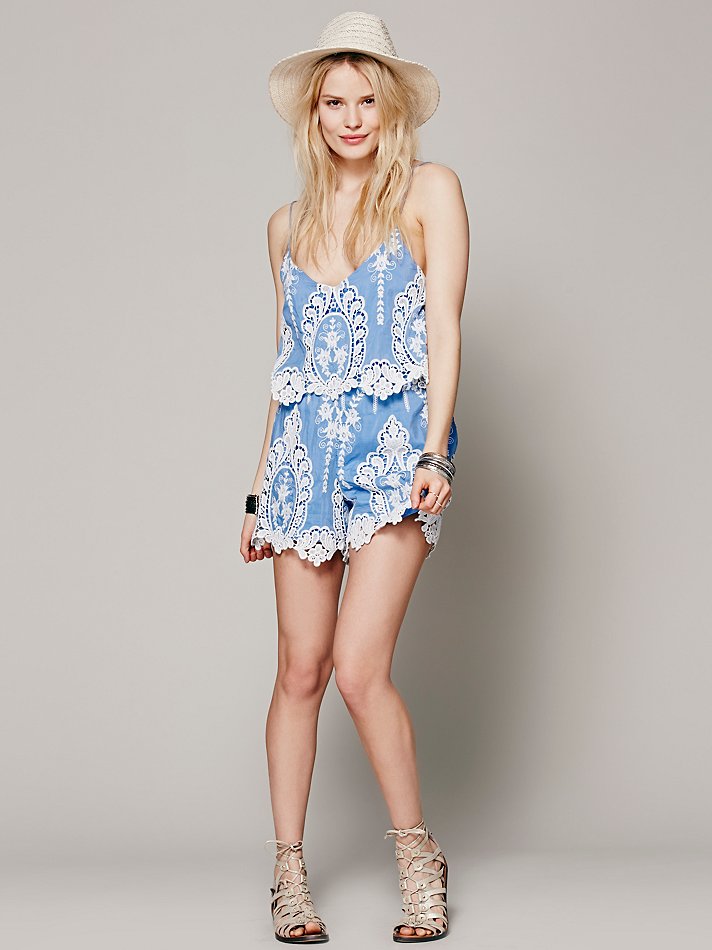 Dolce Vita Gardner Lace One Piece from Free People